Forgotten Moments of Someone Else's Past
About a year ago, I bought some albums from a local market. They were full of photographs with lovely handwritten notes by the side and neatly arranged. They were falling apart and surrounded by other albums and loose photos in a big plastic box. I don't know the lady who owned them, or what her name was, but I was drawn to the images of her, her friends and mother on their trips. I have kept them and not known how to use them.
I have repeatedly got them out, flipped through and put them back again unsure of how I was going to use them.
Following the passing of my grandfather this year, myself and my family have spent a lot of time going through his old photographs (something he loved to do with us), sharing them with each other, and trying to place them by the people in them and the time they were taken. This is what prompted me to get out the albums I found on the Market, determined to not let them go to waste.
I decided to try and cut into some of the photographs and make them into a series of work. They were forgotten albums that ended up on a market stall in Huddersfield and I want to try and bring the forgotten subjects of the photographs back to life. They were once loved images, cherished by the people who took them and those who were in the photographs.
We don't know their stories, what their names were, what lives they lived. But we have a small snapshot into their lives many years ago. Photographs are a record that someone once lived a full life, and somehow the fate of these records have ended up in a strangers hands.
I am working on to the original photographs. I want to stay true to every mark, smudge and tear and crease in what I see as a precious object. I want to turn them back into something cherished that celebrates the moments in the lives of these strangers, that were important enough for them to record in a photograph.
Before I cut into them, I am scanning them to keep a permanent copy before they are altered, along with the original notes in the album. I want to show the originals alongside the altered versions. Eventually I would love to create an archive of the images.
The series has already expanded and alongside the original two albums I am now collecting images from other unknown families.
The Families so far
MED - The woman who owned the album always referred to herself in the notes as MED. They are generally dated in the 50's and the majority are of holidays and day trips with friends and her mother. MED was an artist herself and there are many of her with her art groups and attending exhibitions. I think the family were based in the Darlington area. This album started the series, after finding them on a Market stall in Huddersfield.
Elsie - The majority of the photos (which were loose) were of a lady called Elsie. The dates on the photographs are in the late 30's/early 40's.
Margaret and Robert - Small selection of photographs of Margaret and her husband Robert. Unknown dates
Walsall - 1930's. Small collection still attached to the album pages.
Big Red Box - Purchased as a large collection from Ebay. They all came in a large red box. Many appear related to each other. There are notes only where there were some on the photograph as they were all loose.
Red Biscuit Tin - A large lot of loose family photographs that arrived in a small red biscuit tin. They seem to all be from one source, many have no information.
Unknown Collection - All those that have been bought as individual images or bundles from various places. Notes where they have any. Most were loos and not in albums.
No information on photograph
No information on photograph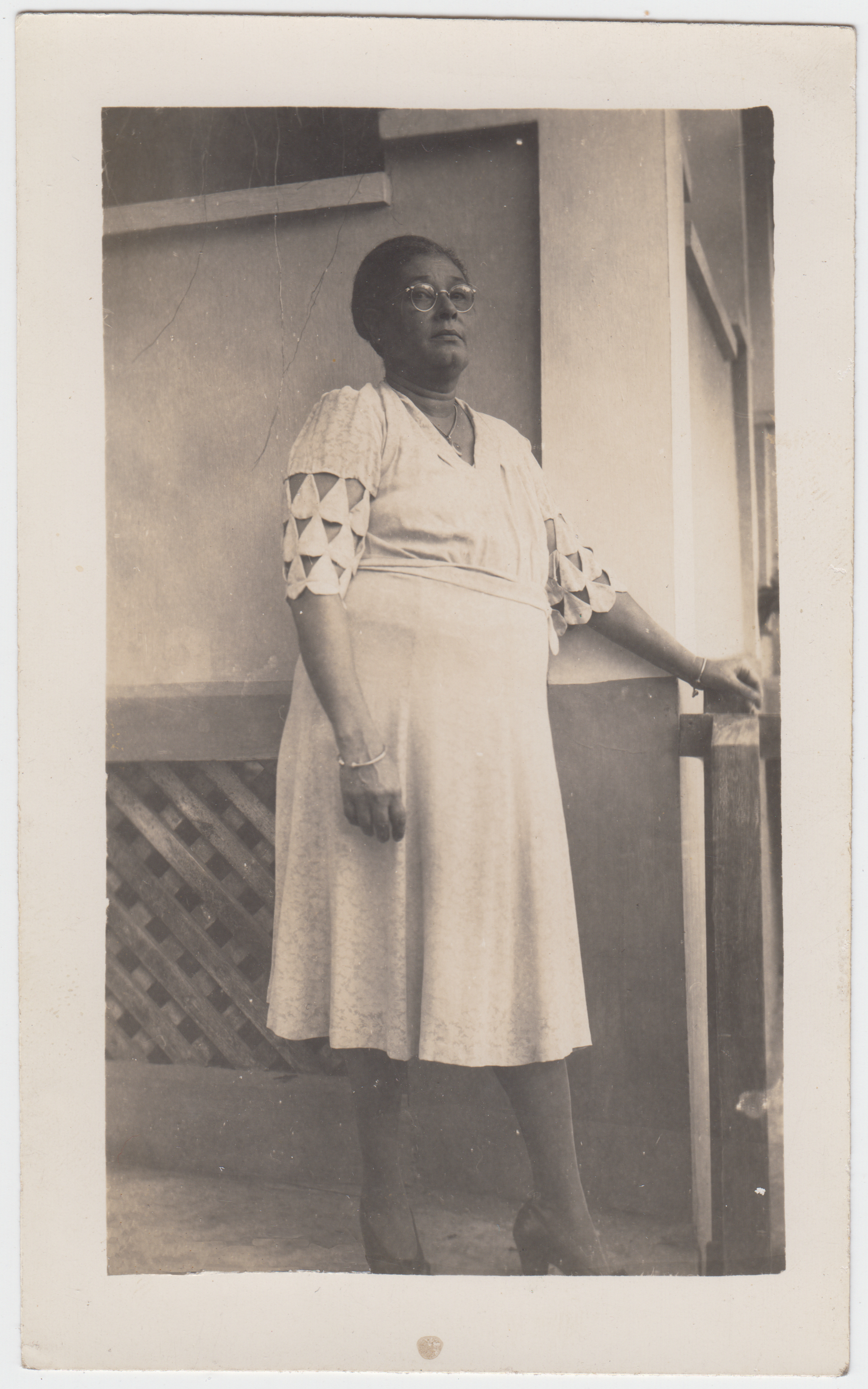 Elsie & Alice, Rhosneigs, 1938
Alice, Nannyi and Elsie
Late 30's
Mothers 80th Birthday Lunch, 4th March 1960
Hazel, Alice, Gladys, Mother, MED
Ready for the opening of the 1961 exhibition
Gwen & Hilda, Northumberland, August 1953
With Daisy, Job Rob and Amy, 1962